[ad_1]
Kootenai County is growing, as is the number of students in the area.
The location where they go to school reflects a change in the makeup of the county.
The 2020 US Census Bureau shows that Kootenai County recorded an increase of 32,838 residents from April 1, 2010 to the same time last year, the third largest and third fastest growing county in Idaho.
The Kootenai Metropolitan Planning Organization projects more than 300,000 Kootenai County residents by 2040, which means thousands more students.
Here's a look at what's going on with enrollment in local homeschools, private schools, and public schools.
HOME SCHOOL
Home schooling has become more popular and has seen an unusually large increase in numbers over the past two years, according to leaders of home schooling co-ops.
Laura Anderson, a homeschool mom and administrator of the Coeur d'Alene Area Homeschool Community Facebook group, a local support group for homeschooled families, said their group has grown significantly since 2019, adding at least 1000 members.
The group has 2,100 members, far more than the 35 members it had when Anderson took over the group in 2016.
Anderson said she believed a few hundred new members were parents who previously used their school district's online education.
She said many new group members said their students were having technical issues with their school districts' online schooling, such as chaotic Zoom meetings or couldn't contact teachers, and they wanted to try something different.
"Ever-changing district policies have forced parents to want a solid educational pathway during the pandemic," Anderson said. "The pandemic is still around the corner and parents wanted a solid foundation without any disruption in student learning. "
Anderson said they have also had a lot of new families who have moved to the area and who have just gone straight into homeschooling.
She said many of those people left states with great school systems and went to homeschooling when they learned Idaho ranks 38th in education, according to the World Population Review.
"They come in here and they check things out and go, 'no way, how,'" Anderson said. "We just noticed that there is a huge influx of new home students jumping into the boat."
Anderson said his group had nothing against school districts, the learning method just didn't work better for everyone.
Gretchen Winde, director of Inland Northwest Christian Homeschoolers Co-op in Hayden, said they were back at full capacity this year, which they haven't achieved in three years.
In 2020, they had a 14% increase in students thanks to 12 new families. Winde said about half of the new families were also new to home schooling, dropping out of the public school system.
This year, enrollment grew 12%, receiving 15 new families, none of which were new to home schooling.
"It's more popular in the home now, and our population is growing, that's a big part of that," Winde said. "We have a lot of people who have just moved to the city but are already homeschooling."
Winde said most of the new people this year were from California or Washington, leaving the less conservative states.
She said she expects home schooling to continue to grow as the population grows, as well as if masks are returned to schools.
Jean Justus Wright, president of the North Idaho Homeschooling Education Association (NIHEA), said home schooling is definitely on the rise as parents remove their children from the public school system.
NIHEA has seen a 20% increase, gaining about 100 students last year compared to the 20 to 40 new students they normally receive, Wright said.
Wright attributes the majority of the increase to parents being upset with the arrangements in public schools for COVID-19 precautions, as well as families moving to Idaho due to the open rules of the home school.
PRIVATE SCHOOLS
Principals of private schools have said they are filling their two-year waiting lists and preparing to expand.
Ann Matlock, founder and teacher of Heritage Christian Academy in Spirit Lake, said the school receives many calls from out-of-state people wanting to move to Idaho for a variety of reasons.
"We've had a lot of people moving in that direction so it's definitely impacting our school," said Matlock. "What people were mainly looking for was an alternative to public schools, as well as a place where their children would not be masked."
Since the start of the pandemic, Matlock said they grew up because of people's personal feelings about freedoms.
As their building only holds 24 children at full capacity, Matlock said they have a waiting list for many years.
According to Reverend John Young, director and administrator of CornerStone Christian Academy in Post Falls, enrollment numbers have tended to increase in recent years and they are now at full capacity, although not fully linked to the pandemic.
Young said they were the first school in the state to reopen after the pandemic began, and as a result were inundated with people looking for a new school that handled COVID without masks or plastic dividers but rather with a very high cleaning.
"We were already at full capacity because of our school policies and our positions with 'society' and others," Young said in an email to reporters. "With the pandemic, we've just been inundated with Washington residents looking for schools that resist some of these things."
These positions and policies include a year-round schedule and armed personnel, as well as a forbear from teaching liberal positions and a common core.
The school has been operating at full capacity with 200 students over the past two years, as well as a two-year waiting list for many classes.
Genesis Preparatory Academy, a private Christian school in Post Falls, has grown by 336 students over the past five years, increasing throughout the pandemic.
Their biggest increase came last year, bringing them to full capacity with 561 students.
Kristina Kenny, director of development, said the majority of new students came from families moving to the area, followed by students leaving public schools.
Due to the increase, Kenny said the school will build an extension that will allow them to serve up to 858 students in the first phase, with a completion date set for summer 2023.
PUBLIC SCHOOLS
While public schools have been affected during the pandemic, some have already returned to pre-COVID highs.
Scott Maben, communications director for the Coeur d'Alene School District, said that on average, the district gains about 100 to 200 students per year as the community grows.
District 1,564 students in 2020 but recovered 766 students this fall. The Coeur d'Alene school district currently has 10,196 students.
Maben said high schools were operating at maximum capacity while elementary schools were hit the hardest.
Katie Ebner, chief financial officer, said officials are wondering if this is due to changing demographics due to rising housing costs and / or concerns about COVID-19.
Maben said as the population grows, they believe they will continue to see new families coming to the district. Most of the growth is occurring in schools on the west side of the district, where new housing is increasing.
To cope with the growth, Maben said, if funding is secured, the district plans to build a fourth college and elementary school in the western part of the district, with the timing of projects largely dependent on resuming enrollment for the next school year. .
The district will also be opening a new K-12 magnetic school next year.
The Post Falls school district saw a slow and steady increase of 100 to 150 students per year in the last few years before the pandemic.
The district registered about 5% of its enrollment in 2020, from 6,167 to 5,869 students, but made up lost ground and recovered 68 additional students.
"Obviously, the pandemic played a role in our walk-in registration last year," Superintendent Dena Naccarato said in an email to The Press. "Many parents whose students have tried an online option have returned to in-person instruction this year."
The Lakeland Joint School District did not respond to press requests for registration information.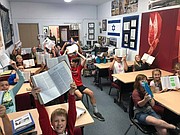 [ad_2]